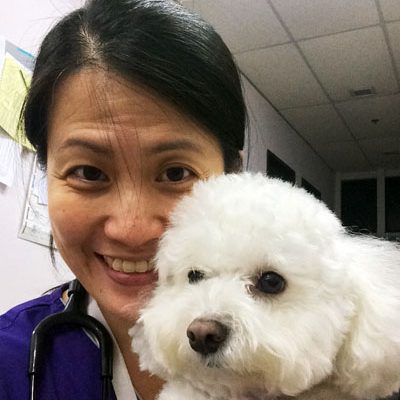 Dr. Grace Heng
Senior Veterinarian
Graduated from University of Sydney, Dr. Grace Heng has been working with small animals since then. She works with dedication and compassion for her patients; always striving to help pet owners in making informed decisions on the conditions of their pets. Besides developing and acquiring special interest in feline and rabbit medicine, she has an unwavering interest in soft tissue surgeries. Dr. Grace enjoys spending time with her own pets during her off days. She is a Senior Veterinarian of TJV.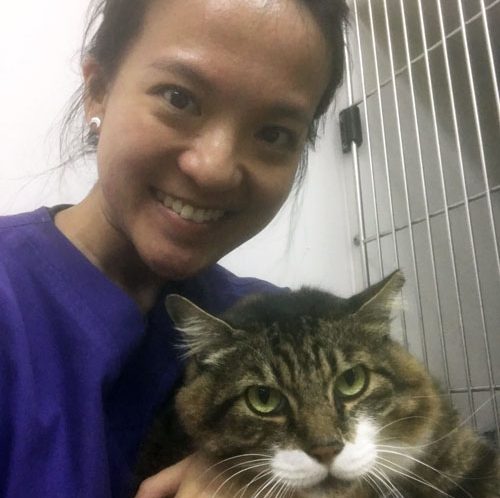 Dr. Clare Koh
Veterinarian
Dr. Clare Koh graduated from the University of Queensland. She joined The Joyous Vet in 2015. She has special interests in internal medicine. Through helping owners and their fur kids, she achieves a great sense of satisfaction, and keeping up with the latest information in vet medicine aids her to serve them better. Outside the hustle and bustle of the clinic, she is an avid drummer and buys more books than she can read.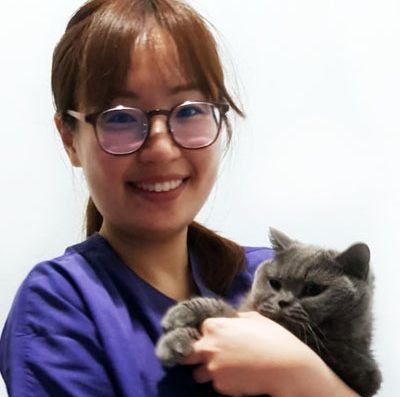 Dr. Ho Yu Hui
Senior Veterinarian
Dr. Ho Yu Hui graduated from the University of Queensland and returned to Singapore soon after. During her time in Queensland, she has developed keen interests in internal medicine and emergency and critical care. She is hoping to develop her skills in these areas in the near future. Outside of work, she enjoys travelling and watching movies.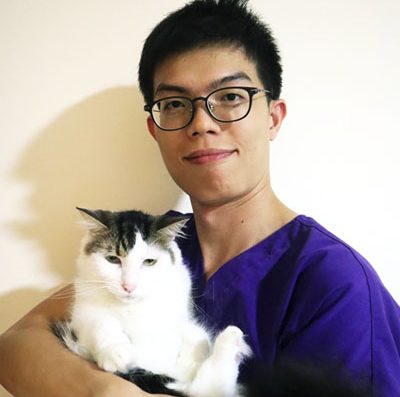 Dr. Chow Hao Ting
Veterinarian
Dr. Chow Hao Ting graduated from the University of Melbourne and strongly believes in doing right by our animal friends. He strives to help pet owners make informed decisions based on their unique situations. During his adventures in Melbourne, Dr. Chow fostered stray animals for the local rescue group and met his best buddy, Roco (the cat in the photo). Roco now enjoys life in Singapore as an Australian expat. Outside of the clinic, Dr. Chow works with various non-profit organisations and enjoys a good cup of coffee. He also served as the Honorary Secretary of the Singapore Veterinary Association for the term of 2017/2018.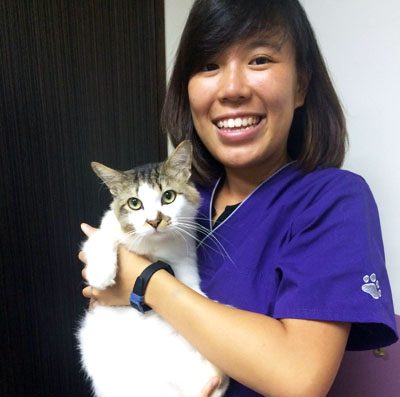 Dr. Tan Yan Ling
Senior Veterinarian
Dr. Tan Yan Ling graduated from the University of Sydney. She has keen interest in small animal and exotic medicine, and keeps herself updated in these areas to provide the best care for your pets. She enjoys volunteering and her most memorable one to date was with the elephants in Thailand. In her free time, she plays badminton and spends time with her senior pet dog, Fritz!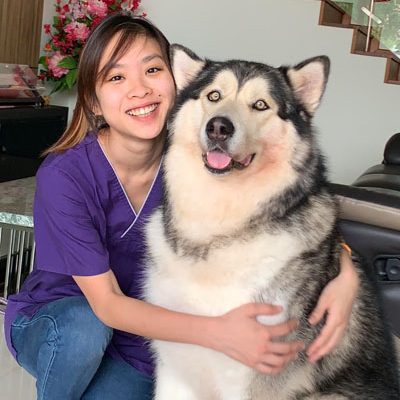 Dr. Chia Siu Yi
Veterinarian
Dr. Chia Siu Yi graduated from Murdoch University. She has an interest in both small animal medicine and surgery and secretly enjoys wildlife medicine as well. She has volunteered around the world with wildlife in South Africa to Thailand and hopes to continue doing these when she's not in the clinic. She is a proud owner of 3 dogs and a cat and hopes to grow the numbers steadily. Outside work, she enjoys horse riding, hiking, eating as much as she can and travelling!